Yahrzeits
Yahrzeits
What is Yahrzeit?
Yahrzeit is a Yiddish word meaning "a year's time." The yahrzeit is the annual anniversary of the death of a person, based on the Hebrew calendar (although some individuals observe it on the Gregorian calendar). If you do not know the exact day of death, you may choose a date to observe as the yahrzeit. Rabbi Diana will be happy to answer any questions about the historical, mystical, or practical aspects of Yahrzeit.
Why observe Yahrzeit?
Commemorating the anniversary of a death year after year allows you to honor the deceased and the legacy he or she has left behind. It also helps you remain in touch with the memory of the deceased, while at the same time continuing to move through the cycle of life. In this way, death becomes part of the cycle of life itself.
What happens on Yahrzeit?
This day is a solemn day of remembrance. Typically, people attend synagogue or a place where there is a minyan to say Kaddish Yatom, or Mourner's Kaddish, for their loved one.
At KHN, your loved one's name will be read during the Hebrew month of the actual yahrzeit date at Friday night Shabbat service. Many families attend this service for that reason. Some people also visit the cemetery around this time or give tzedakah (charitable donations) to commemorate the yahrzeit. Another tradition is to fast during yahrzeit for a parent and, if so, to avoid attending weddings because of their celebratory mood.
How can I receive Yahrzeit reminders from the synagogue office?
Send an e-mail to littleshul@kehilathanahar.org with the name of your loved one and the Gregorian date of death. The synagogue office will send you a written reminder of your loved one's yahrzeit approximately one month before the date.
What about the Yarzheit candle?
The candle is typically lit the evening before the yahrzeit date. There is no specific prayer for the candle lighting.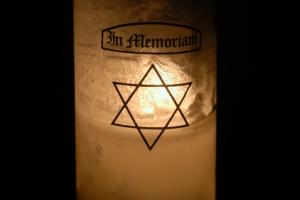 Tue, November 28 2023
15 Kislev 5784
Upcoming Programs & Events
---
This week's Torah portion is

Parashat Vayishlach
Candle Lighting
Havdalah
Motzei Shabbat, Dec 2, 5:24pm
Erev Hanukkah
View Calendar
Tue, November 28 2023 15 Kislev 5784